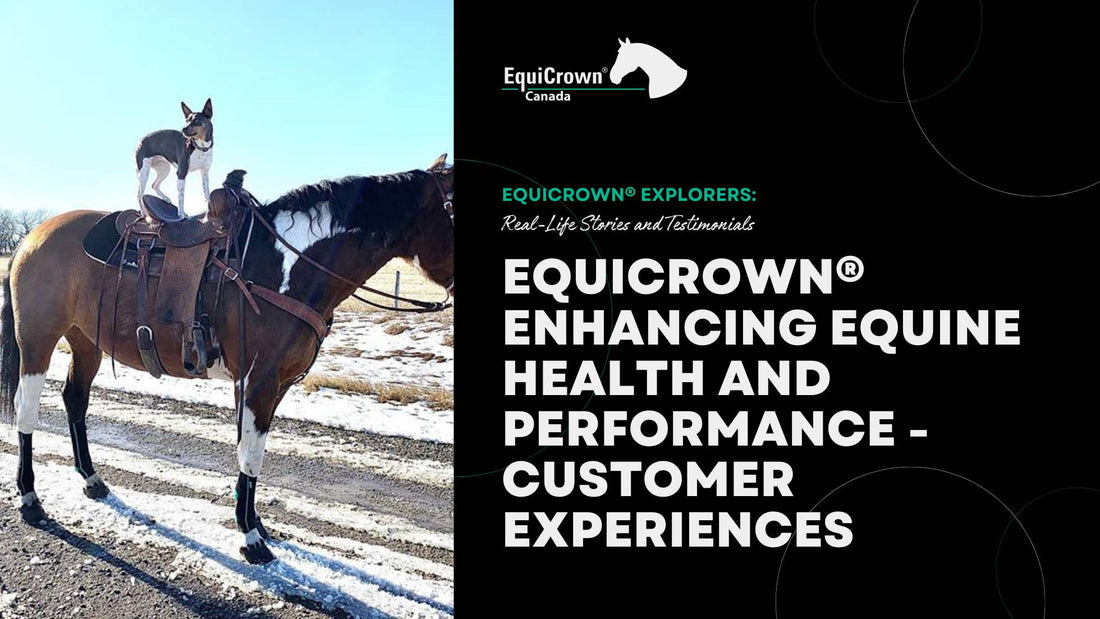 EquiCrown® Compression Bandages: Enhancing Equine Health and Performance - Customer Experiences
Tina Watkins: EquiCrown® from a Therapist's Perspective
Tina Watkins, an equine therapist in Calgary, Alberta, was thrilled to introduce EquiCrown® compression bandages to her clients. She found that her clients provided positive feedback, with the most common comment being a noticeable reduction in joint fluid. Tina appreciates the unique ability of EquiCrown® bandages to truly fit a horse's leg, ensuring the correct pressure is applied to stimulate the lymphatic system and reduce fluid pooling in the lower limb. She is happy to recommend this product to her clients.
Ashley Furgeson: Travel and Performance Support with EquiCrown®
Ashley Furgeson, a trick rider from Calgary, Alberta, frequently travels across Canada and the United States with her main trick riding mare, Aurora. Ashley loves how EquiCrown® bandages provide even, uniform pressure on her horse's legs, improving circulation without trapping heat. When she unloads Aurora from the trailer, her legs are cool, dry, and tight. The bandages offer great support during travel and performances. Ashley also enjoys the convenience of cold hosing over the bandages for combined cold and compression therapy.
Elsie Reford: Managing Stocking Up and Wind Puffs
Elsie Reford, a horse owner from Wellington, Florida, was drawn to EquiCrown® bandages as an easy and effective solution for her horse that frequently stocked up and was prone to wind puffs. After using the bandages, she discovered additional benefits, such as the increased blood flow that warms up the legs before exercise, and the reduced fluid pooling post-exercise, keeping the legs more comfortable and healthier. Elsie loves the durability of the bandages and their ease of washing in the laundry machine. She considers EquiCrown® an important component of her equine partner's success.
Lisa Carlsen: Ensuring Top Leg Condition
Lisa Carlsen, from Calgary, Alberta, relies on EquiCrown® ACTIVES and FITS to maintain her horses' legs in top condition. She appreciates the predetermined, accurate, and consistent compression the bandages provide, which is crucial in a busy barn or during events when multiple people are involved in horse care. Lisa is grateful to EquiCrown® Canada for personally addressing her horses' needs.
Kathy LeBlanc: Managing Snake Bite and Cellulitis
Kathy LeBlanc from Connecticut faced a challenging situation when her horse, Karma, suffered a snake bite that led to months of recurring cellulitis, antibiotic treatment, and wrapping. The turning point came when her veterinarian attended a conference featuring a presentation from EquiCrown® Canada. Kathy started using EquiCrown® ACTIVES and FITS and successfully manageded Karma's chronic condition.
Conclusion
EquiCrown® compression bandages have made a significant impact on various aspects of equine health and performance. From therapists recommending the bandages for lymphatic system stimulation to riders experiencing the benefits during travel and performances, EquiCrown® bandages have proven to be a game-changer. Horse owners dealing with stocking up, wind puffs, and even more severe conditions like snake bites and cellulitis have found relief and improved equine health with these innovative bandages. The personal experiences of these customers demonstrate the versatility and effectiveness of EquiCrown® products in addressing diverse equine needs.
We will send you FREE tips, product information, and offers in our newsletter.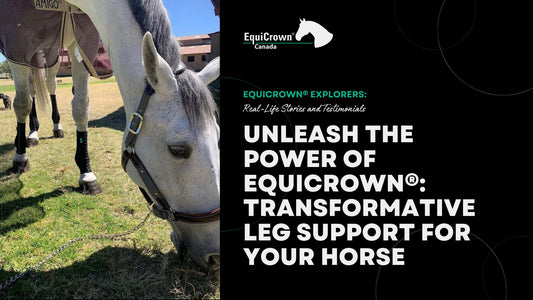 Unleash the Power of EquiCrown®: Transformative Leg Support for Your Horse
The EquiCrown® Revolution in Horse Leg Care EquiCrown® has emerged as a game-changer in horse leg care, offering a range of...