Unleash the Power of EquiCrown®: Transformative Leg Support for Your Horse
The EquiCrown® Revolution in Horse Leg Care
EquiCrown® has emerged as a game-changer in horse leg care, offering a range of products that effectively address common leg issues in horses, such as stocking up, windpuff, and injury support. With their innovative design and proven results, EquiCrown® compression bandages have become indispensable for horse owners, trainers, and riders worldwide. In this article, we share testimonials from satisfied customers who have witnessed the transformative power of EquiCrown® products on their horses' leg health and performance.
A) Prevention and Injury Support with FITs and ACTIVES
Dakota Philibert (Mexico): Dakota turned to EquiCrown® FITs and ACTIVES for preventive care and injury support for her horses. The products not only helped prevent stocking up but also supported her older horse's previous injury. Dakota appreciates the breathable design of ACTIVES, which prevents overheating during flatwork, and the exceptional support and advice from EquiCrown® Canada.
Samantha Paradis (Ontario, Canada): EquiCrown® ACTIVES have been a game-changer for Samantha's horse, Colby. Regular use has prevented the recurrence of windpuff and stocking up, allowing her to stop using polo wraps. For Samantha, EquiCrown® products have become indispensable for training, providing peace of mind and extra support.
B) Support During Stall Rest and Injury Recovery
Jody Garner (Canada): Jody found EquiCrown® invaluable during her horse's six-month stall rest. She appreciates the advice and support provided by EquiCrown® Canada throughout this challenging period.
Charlie Gordon (Spain): After successfully using EquiCrown® for injury recovery, Charlie has made it a part of their regular care routine. They've experienced great results and are thrilled with the products.
C) Optimizing Performance and Daily Leg Care Routine
Francisco Pasquel (Mexico): As a professional rider, Francisco uses EquiCrown® FITs and ACTIVES for his performance horses. The products keep their legs cool, provide support, and are comfortable to wear. He's now expanding their use to more horses in his barn, praising the advice and support from EquiCrown® Canada.
Beth Underhill: Beth uses ACTIVES and FITs as part of her daily leg care routine. She appreciates the products' effectiveness in keeping her horse's legs cool, even in hot climates, and values the technical support provided by EquiCrown® Canada.
Dani Waldman: Dani trusts EquiCrown® for both tendon injury rehab and daily leg care, using ACTIVES and FITs for optimal results. She praises the company's compression bandages, which provide the correct amount of pressure while keeping the legs cool. Dani also appreciates the exceptional support from EquiCrown® Canada.
D) Recovery from Severe Leg Conditions
Sharon Henschel (Alberta, Canada): Sharon's horse, Expo, suffered from cellulitis and a check ligament injury. She turned to EquiCrown® FITs and ACTIVES to address both issues. Over three months, FITs reduced the swelling in Expo's hind legs, while ACTIVES supported his front legs. Within six months, Expo made an amazing recovery and returned to showing.
Amy Gibbs, MSc PT (Utah, United States): Amy's horse, Denali, was afflicted with equine cellulitis in his left hind leg. Despite initial pain management and antibiotic treatments, Denali's leg continued to swell periodically. Amy began using EquiCrown® ACTIVES in March 2020, and by September, the affected leg's size had reduced to match the healthy leg. EquiCrown® ACTIVES proved to be an effective long-term management solution for Denali's lymphangitis, where conventional vet wraps and medication fell short. Amy is grateful to EquiCrown® Canada for their support in helping her horse recover.
E) The Importance of Expert Support and Guidance
EquiCrown® Canada's exceptional support and guidance have played a crucial role in ensuring customers get the best out of their products. Their technical advice and assistance have helped numerous horse owners, trainers, and riders optimize the use of EquiCrown® products for their horses' specific needs.
Conclusion: Embrace EquiCrown® for Unparalleled Horse Leg Care
As evident from the testimonials above, EquiCrown® compression bandages have made a significant difference in the lives of horses and their owners worldwide. The products have proven effective in addressing various leg issues, supporting injury recovery, and optimizing performance. Furthermore, the expert guidance and support provided by EquiCrown® Canada have been instrumental in helping customers maximize the benefits of these innovative products.
Don't miss out on the transformative power of EquiCrown®. Equip your horse with the leg support they need to excel and experience the peace of mind that comes with trusting the best in the industry.
We will send you FREE tips, product information, and offers in our newsletter.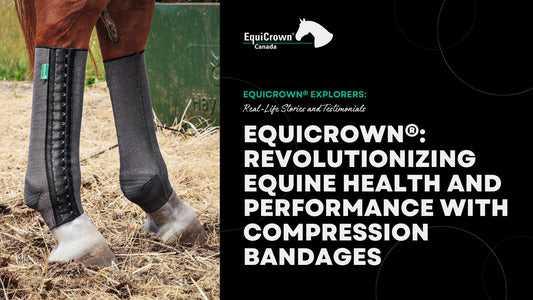 EquiCrown®: Revolutionizing Equine Health and Performance with Compression Bandages
In the world of equine health, maintaining optimal performance and ensuring a swift recovery from injuries is essential. EquiCrown®, a leading...