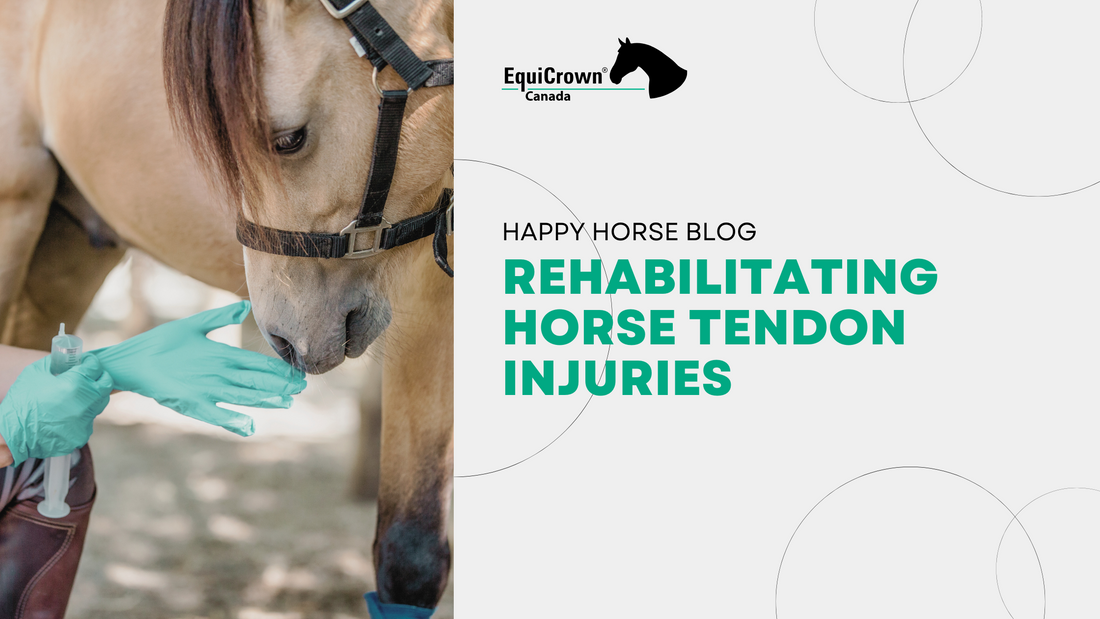 Rehabilitating Horse Tendon Injuries
Even if it's quite common, a tendon injury diagnostic feels like the worst news for a horse owner. That's because tendon injuries are the hardest horse leg injuries to recover from, so they must be addressed carefully and patiently.
If your horse has been diagnosed with a tendon injury or rupture, the first thing you need to do is breathe. It is definitely not good news, but it is not the end of the world, and with patience and proper care, your horse can recover from it.
The best course of action is to ask your veterinarian for advice and do your research to see what alternatives are available to help your horse recover faster and avoid re injury. Create a recovering schedule and make sure you take extra care of your horse's leg.
It can take up to 12 months to completely recover from a tendon injury, and hearing that from your veterinarian can be disheartening. After all, it seems like you're losing all the progress that you've made.  Hang in there, you and your horse can get through this!
How To Prevent Tendon Injuries
Of course, it's best to prevent tendon injuries from happening in the first place. Here are a few easy steps you can take to make sure you are doing your best to avoid tendon tears and other accidents.
First, always make sure your horse doesn't suffer from muscle fatigue. Many injuries happen when tendons get weaker and can't handle certain moves or stress. 
Also, keep in mind that a horse must be adequately trained to be in good shape. Studies show that if horses don't exercise regularly and are stalled most of the time, their cartilage thickness and tendons get weaker and more prone to ruptures and injuries.
How Long Does It Take For Tendon Injuries To Heal
A small, soft injury will heal faster than a total tendon rupture. Also, keep in mind that recovery can be easier for a younger horse than for older ones. But even the most minor injuries will take somewhere between 9 to 12 months to heal completely.
Tendons and ligaments are made of collagen fibers and are strong enough to support the animal's weight but elastic enough to support a wide range of motions. Still, when the animal makes a wrong move or forces the tendon, it can tear.
Let's go through this step-by-step guide to know what to expect and what are the primary healing stages.
What To Do Immediately After Tendon Injuries
The first thing you have to do when you suspect that your horse has a tendon injury is to cool down the area, to avoid inflammation and swelling. Applying cold water with some ice is the easiest way to do that. Most veterinarians will recommend icing or cold-hosing the leg twice per day.
Next, you can use compression wraps to support the legs and reduce the swelling. EquiCrown Active compression bandages provide the correct compression and athletic support needed for both recovery, rehab and re-entry into activity.
During this phase, your vet might prescribe anti-inflammatory drugs to reduce pain, inflammation and help your horse feel a bit more comfortable.
Strict stall rest is advised until the injury is cooled down and the wound is no longer hot and painful at the touch. This phase can take a few days for a minor rupture to almost two weeks for a more severe fracture.
The First Steps To Recovery
After the first weeks have passed, you should talk to your veterinarian to check up on your horse's state and create an outline for the next phase of recovery. Depending on the horse's condition and how the recovery goes, here are some of the things you can do during this time.
If the veterinarian says it's ok, you can slowly start with short walks and minor exercises to stimulate the healing of collagen fibers. Be careful not to overdo it, since, in this phase, reinjury is possible. EquiCrown Active compression wraps will provide the correct support needed for ongoing healing and strengthening. 
Most of the time, resting in the stall is still advised to avoid reinjury and help the healing process. You might need medication to sedate your pet if he's young and playful, just to make sure it gets the rest it needs.
After two months, ask your veterinarian if it's time to repeat an ultrasound exam. If it all goes well and the fibers are recovering, you can proceed to the next phase.
The Long Way To Getting Stronger
Slowly, you start replacing the daily walks with tack walk. Always ensure the leg is properly supported.  In the first weeks, you can slowly begin to add five minutes of trot as well but be sure to get the veterinarian's opinion and perform a proper warm-up before you get started.
You can gradually increase the exercise time and intensity but always proceed with caution and take baby steps.
If it all goes well and the recovery is on the right track, you can also offer some turnout time. You can put the horse in a small paddock where it's alone since meeting with other horses might provide the possibility of re-injury.
Always keep your horse under observation, specifically during turnout.
Full Recovery
After going through the 9 to 12 months of the recovery, your horse is fully recovered, and it can come back to his regular schedule.
Remember that you will always have to take extra care of the injured limb since there is still a risk of reinjury. Unfortunately, the recovered tissue is not as strong as the new one, and tears and ruptures are always possible.
The analogy we use is a human sprained ankle. Once you have sprained your ankle, that ankle remains "weakened" and susceptible to spraining again during the first one to two years. But with time and proper compression support, your ankle will recover.
The good news is that most horses do recover completely and can return to competitions, especially if it's a small injury.
Conclusion
If you are going through a recovery process for a tendon injury, remember that you are not alone. We know what it means, and we're here for you every step of the way. We can provide the best compression wraps and tips to assist the recovery process.
Contact us
 to get more details and tips on how to overcome these hard times.
We will send you FREE tips, product information, and offers in our newsletter.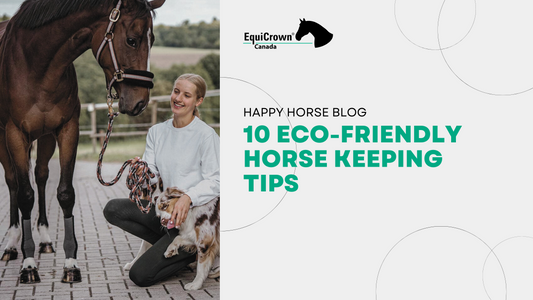 10 Eco-Friendly Horse Keeping Tips
Discover our eco-friendly horse-keeping tips and start doing your part to save the environment today.